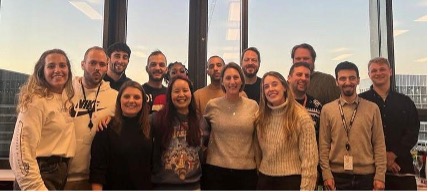 Performics are over the moon with their latest achievement – winning the prestigious award for Best Social Media Tool at the UK Social Media Awards for their bespoke tool – Social Intelligence!

This award is a testament to the dedicated efforts of the Technology & Intelligence team at Performics, who built this innovative product. It's truly an honour to be recognised amongst top brands across the industry.
Social Intelligence has been making a significant impact across Performics UK's agencies; as T&I are at the forefront of developing bespoke technology tailored to meet our clients' unique needs. Since the majority of Meta advertising utilises dark posts, it is extremely difficult to gain a competitive understanding of the Paid Social landscape.  Social Intelligence is a sophisticated data driven tool that provides clients with competitor investment estimates that offer a comprehensive understanding of the social space. This strategic approach also provides the ability to gain additional insights on competitor advertising tactics.

The judges were particularly impressed with ''the tool's sharp focus on competitor spending and its detailed analysis of existing issues, amid changing regulations and industry challenges''. Critically the tool also is fully brand safety compliant, as requires no panel or non-privacy compliant data.
This award fuels our determination to continue building our reputation for developing strong and impactful products. Get in touch with us if you'd like to hear more.
We're excited about the journey ahead and remain committed to delivering excellence in the ever-evolving world of social media. Thank you for this achievement!